Can you believe that the Costa del Sol extends along Spain's southern coastline for more than 150 kilometres?
Blessed with over 120 beautiful beaches, several buzzing with activity, while others are peaceful and secluded, fringed by natural lush vegetation. Steep mountain ranges impose a formidable backdrop and stand proud, acting as silent guardians for the villages they cradle.
Spain has become Europe's leading golf destination, and with over a 100 world class golf courses spread out in privileged areas, you get to enjoy your favourite sport in style. The vegetation grows in abundance, and likely to be the reason that golf courses thrive in this environment. Fairways embrace the gentle green valleys, flanked by exclusive country clubs, and bordered by grandiose homes.
The Costa del Sol, "Coast of the Sun" runs along the southern stretch of Andalusia, with Malaga is its capital. The proximity of the towns allows visits within short distances, and in offering thousands of properties for sale, there is always a home to suit every pocket.
Every town welcomes you to its own unique beauty, and so we touch on a few gems to whet your appetite: –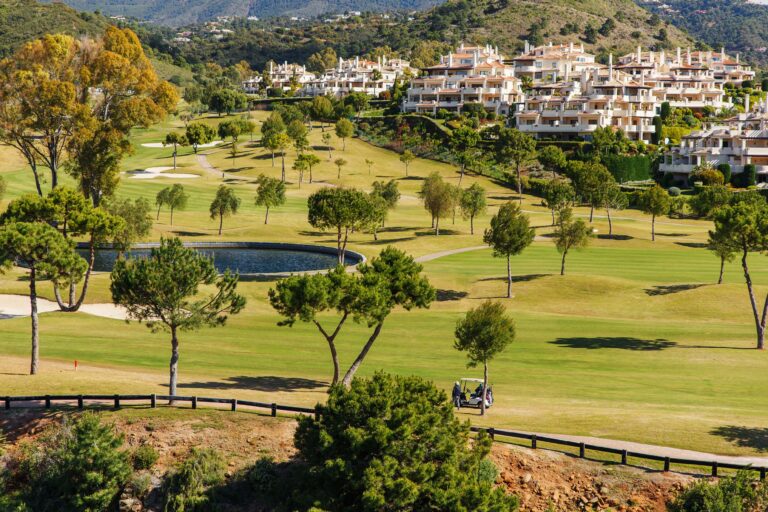 Travelling along the western side leads you to the famous and exclusive Marbella's golden mile, stretching approximately 6km to Puerto Banus, and sporting an enviable showcase of the most glamourous, classic, and contemporary villas for sale. Puerto Banus itself, is home to a luxurious marina where the wealthy exhibit their expensive vehicles and yachts. Laced with swanky top designer brand stores, perched above the town stands desirable upmarket apartment complexes, offering facilities beyond imagination.
Renowned as the largest private residential development, Sotogrande's properties portray an architectural vision of inspiration with homes constructed to perfection. Just a stone's throw away, lies the quaint village of Manilva, known for its abundant vineyards. The blessed grapes are still foot trodden into a pulp by locals and forms part of their annual festival.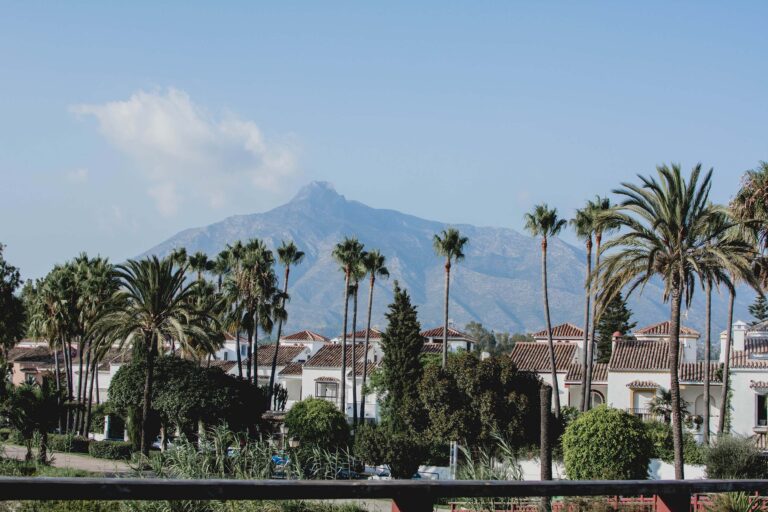 Estepona is a well-developed town and prides itself on perfect promenades, lined with enormous palm trees. Hanging buckets of the brightest blooms bring a myriad of colours to the whitewashed buildings, which feature blue accents on window frames and shutters. A must see is their magnificent orchid house enhanced by the distinct twitter of birds. The Punta don Cella lighthouse is one of the most envied vantage points of coastline views, focusing on Gibraltar and the North African shoreline
The Serene village of Benahavis, deemed to be one of the wealthiest villages in Spain is renowned for its ultra-luxurious gated estates and free-standing villas. Nestled in the mountainside vegetation and surrounded by forests, the Guadalmina river runs through it. Also famous for its award-winning gastronomy and as a golfers' paradise.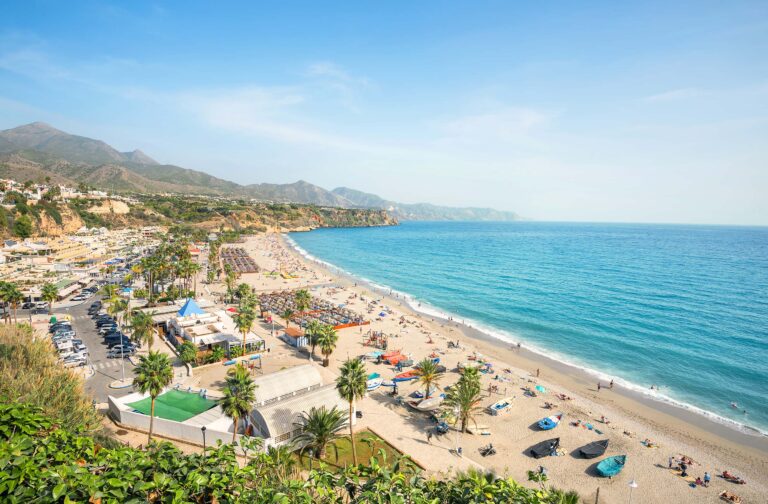 Tucked away just above Marbella and a mere 10km from the shoreline, lies the traditional village of Ojén. This small inland village boasts celebrity status and shows off a family of wise old oak trees, castles, and museums, including lavish homes for sale.
Located perfectly in the centre of costa del sol, is the gorgeous town of Benalmadena. Don't leave without having witnessed its marina, or you will regret it! Only a two-time winner of the "Best Marina in the World" award…just saying. Facilities incorporate a spectacular aquarium as well as an array of boats from all around the world as well as being a benchmark for the world of regattas and fishing championships. Nighttime witnesses a hive of activity within its wide range of bars, restaurants, and clubs. Homes within this region sell from affordable to expensive.
Travelling further east, allows you to resonate with peace as it becomes quieter and far less developed.
Frigiliana, they say, is the most beautiful village in Málaga's Axarquía region. Walking through it is like stepping onto Olympus. A Gods' world of white structures embellishing the purest example of articulate architectural ensemble. The elevated cobbled streets and generous stairways, adorned with hues of crimson fuchsias with the contrast inciting special emotions within. Rest at their ancient fountain and treat your palate to their famous sweet wine. Santa Fiora botanical garden is a welcome sight!
If you want to immerse yourself in a fantasy world, there is a place that you just cannot miss in the charming old fishing village of Nerja and its quite befitting these mysterious caves are declared a National Monument. This immense natural cave laced with stalactites, extends 4km between the three known caverns. The sheer height of the galleries and prehistoric paintings alone will leave you gasping, luring you into an unknown realm of fantastic reality! The annual flamenco festival held inside the caves, heightened by enhanced lighting, and echoed acoustics leaves you in awe. One of the highlights is the horse and carriage rides and proof of their resistance to development, although there are still beautiful properties for sale to suit all seekers.
Contact us soon, to discover so much more!